Super Moderator, Chief Content Editor
Staff member
It has been eleven months since Canada made the leap from analog to digital over-the air transmission in the major population centers. However, 620 analog transmitters run by CBC have been allowed to continue to operate across the Nation and most of them serve smaller Communities. Those transmitters will go dark July 31, 2012.
Perhaps last years
promotion
for the Canadian Digital TV transition should be redone as:
You will soon receive
Only Snow in many areas of Canada
.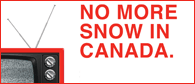 The numbers reported by CBC are a bit confusing: one year ago they wrote that 5% of Canadians depended on free over-the-air TV and now they say 2% of Canada's population is expected to lose their CBC Television reception.
The last lines of the announcement are rather telling and it reflects the Global economy:
However, the acceleration of the shut-down is one of the measures announced by the Corporation to deal with the recent reduction in its parliamentary appropriation. The move will save $10 million a year, money that the Corporation will be able to put into programming.

Continuing to operate 620 transmitters to reach just 1.7 percent of the population would not be an efficient use of our resources at the best of times, and it is simply not viable given the current circumstances." ...
The CBC Announcement can be read here:
Analogue TV • CBC/Radio-Canada