Administrator
Staff member
My
Kindle 2
has finally arrived after a week of anticipation. Please use this thread for all comments and questions about the Kindle 2 and it's competitor, the
Sony PRS-505 e-Reader
.
Intro: I love reading the Wall Street Journal and USA Today newspapers but carrying them both in my small book bag is a pain in the rear. I'm hoping to use the Kindle 2 as a news reader/periodical reader as well as a book reader. This review will try to cover all aspects of using a Kindle as I've listed below in the table of contents.

Table of Contents:
Device Specs
First Impressions
Kindle Usability - Books
Kindle Usability - Periodicals
Kindle User Tips
Important Shortcuts
Device Specs:
Kindle: Amazon's 6" Wireless Reading Device (Latest Generation)
6" diagonal E Ink® electronic paper display
600 x 800 pixel resolution at 167 ppi
16-level gray scale.
First Impressions
Opening the shipping box from Amazon was a breeze by tearing a perforated tab on the side. A second box inside the shipping box (pictured below) neatly housed all of the accessories, manuals, and the Kindle itself.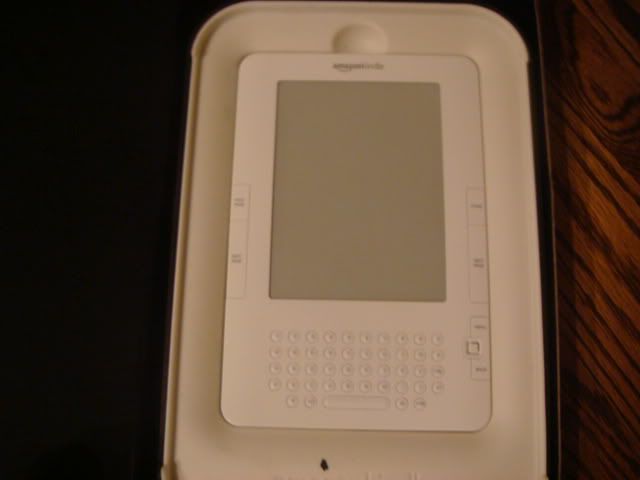 At .36" thickness and 8" tall by 5.3" in width, I knew the Kindle was going to be small, but seeing it in person still surprised me. And picking the device up out of the box, weighing 10.8 ounces; it felt substantial, yet, not bulky. Weight distribution is proportionately balanced, which was important to me because I like to read at different angles (ie: lying down, sitting up, on my stomach, you name it!). The overall design of the Kindle's outer casing reminded me of an Apple iPhone or iPod. That's a good thing in my opinion because I've always liked Apple's sleek designs.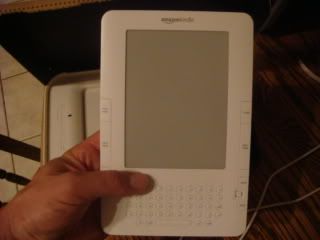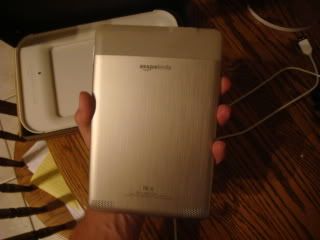 Turning the device on was as easy as sliding the power switch located on the top right next to the headphone jack.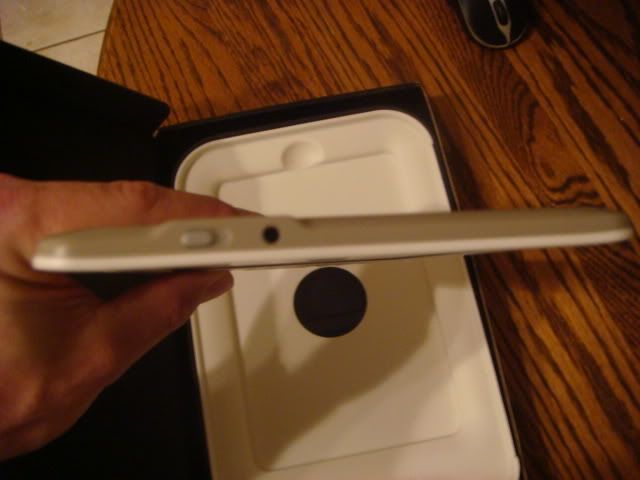 I was greeted with the home menu screen, and at that point, it was a welcomed reminder that the device came pre-loaded with The New Oxford American Dictionary. More on that later. After 5 minutes of fiddling around with settings and options,
here are my initial thoughts…
The Good: The Kindle's menu is simple and easy to browse.
The OK: The speed of the menu/interface is fair though I wouldn't mind faster movements and load times.
The Bad: The 5-way controller is small for my averaged size thumb. Pushing the controller in the up direction almost has the feeling as if the knob may press down at any moment to select an item or execute an action. It's not a deal breaker, but I'd like to see Amazon work on this for Kindle 3.
The battery status indicator at the top right of the display indicated half a charge, so I grabbed the power adapter and plugged everything in.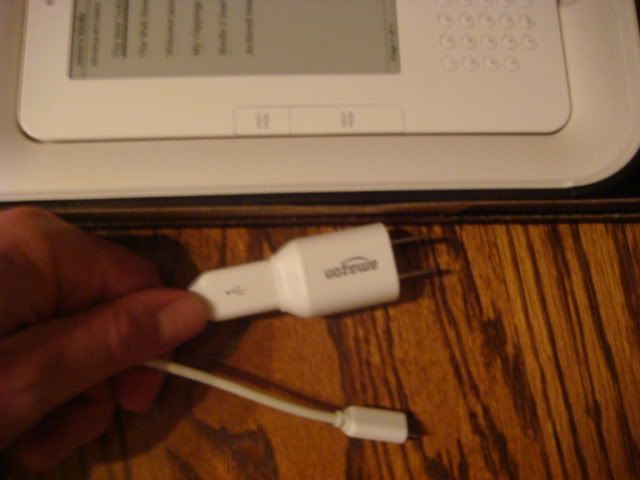 What I like: The power adapter comes apart and becomes a USB (type A) adapter that can plug into a USB port on your PC. This eliminates the need for a second cord to carry.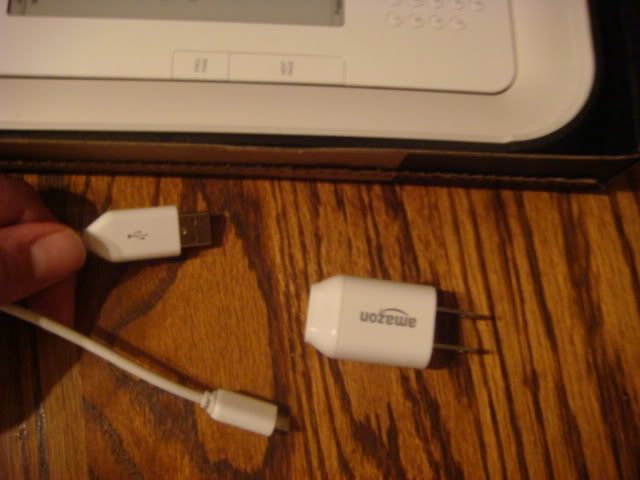 Usability of the Kindle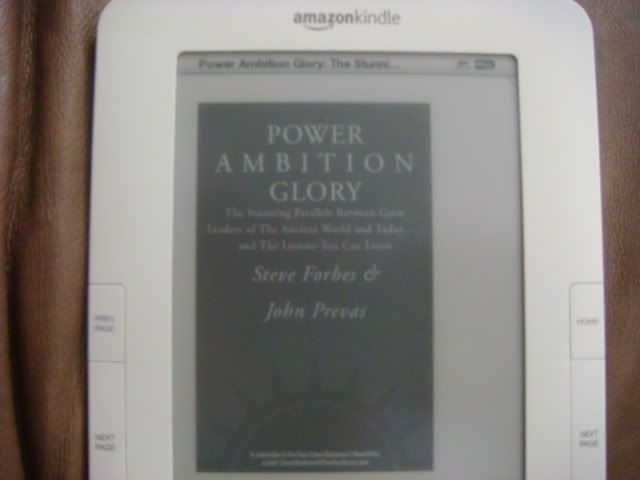 Books
Reading a book on a
Kindle 2
is as simple as these three steps: open book, read page, press "next page", repeat. In my opinion, it's the main intention of what the device was designed for. And it does it well. "Cracking" open a book to read for the first time will be place you at the cover page. When you get to the table of contents, you can scroll and select a section you'd like to skip to by pressing the 5-way controller "in".
If you're worried about being able to clearly see text while reading, Amazon has given readers 6 options to choose from for increasing or decreasing font size. I've found that increasing the font size helps in low light conditions.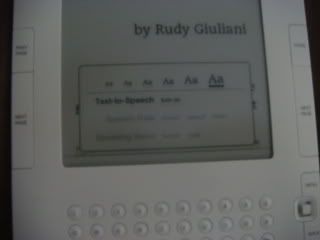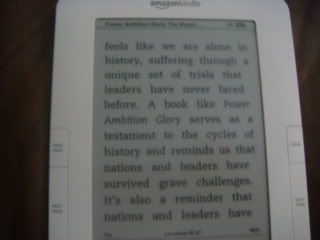 Options can be accessed by pressing the menu button. A powerful tool that I use often is the search function, which can search for single or multiple words, and return all results in the book. The below search was finished in less than 3 seconds.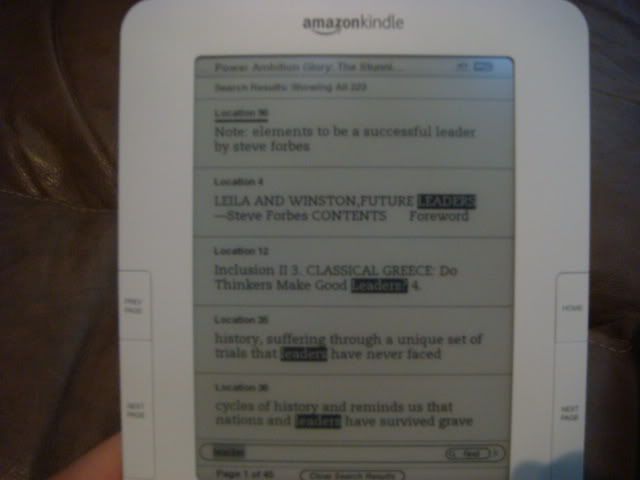 While reading a book, how often have you ever come across a word which probably wouldn't even exist in a
Mensa
member's vocabulary? No problem, use the 5-way controller to choose the baffling word, and it'll quickly pop up a definition from The New Oxford's Dictionary in less than 2 seconds at the bottom of your Kindle screen. If the definition takes up more than two sentences, you'll need to press the return button to retrieve the full definition, and then the back button to return.
Periodicals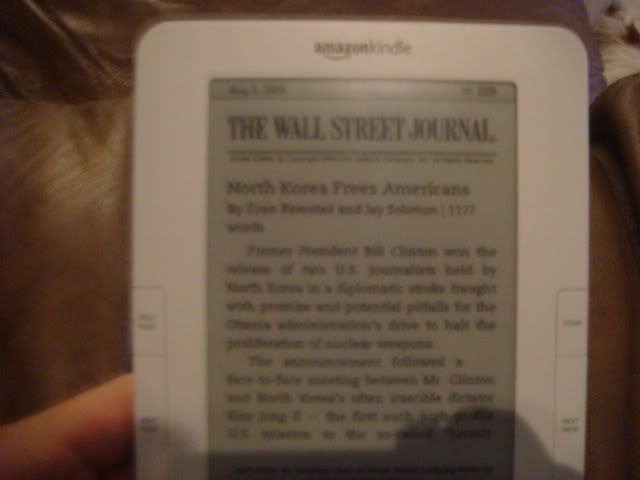 For now, I've developed a love / hate relationship with periodicals on Kindle. I love the quick accessibility to full newspaper articles and keeping them in my archive for review at a later time. The "Search This Issue" feature which allows you to do a complete search for a word or words is fantastic!
What I hate about periodicals can be described in three segments.
1. My Wall Street Journal subscription is costing me $14.99/month through Kindle instead of the $9.99 I was paying to read WSJ online in color and interactivity. Which leads me to item two,
2. On top of that, no online access directly to the
The Wall Street Journal
website is included with a Kindle subscription. :duh:
3. Skipping to different articles is easy, but it's no substitute for having a newspaper in front of you and skimming headlines. I'm not sure how Amazon can improve this for now, but it needs work.
Kindle User Tips:
Remember to turn off the wireless connection when you're not using it. This made a world of difference for battery consumption on my device. I'd like to see an auto-wireless-off feature implemented in the next Kindle that can be manually set to power down after inactivity.
Sleep Mode vs. Off: Your Kindle will automatically go into sleep mode after 10 minutes, at which it'll load a background picture. Sleep mode will not consume any more battery than powering off your Kindle, unless, as specified by the Kindle Quick-Start Guide,



If your Kindle had wireless on prior to going to sleep, it will continue to receive your regularly scheduled subscriptions while in sleep.

Worried about burn in from leaving your Kindle on the same background for too long? This is a myth. E-ink devices
Important Shortcuts:
Screen-shot
- Alt+shift+G will create a .gif picture of your screen and save it to the Documents Folder
Display the Time and Free Memory
- Press MENU button
Amazon Kindle Store
- alt-home