Moderator, , Webmaster of EV's Antenna Blog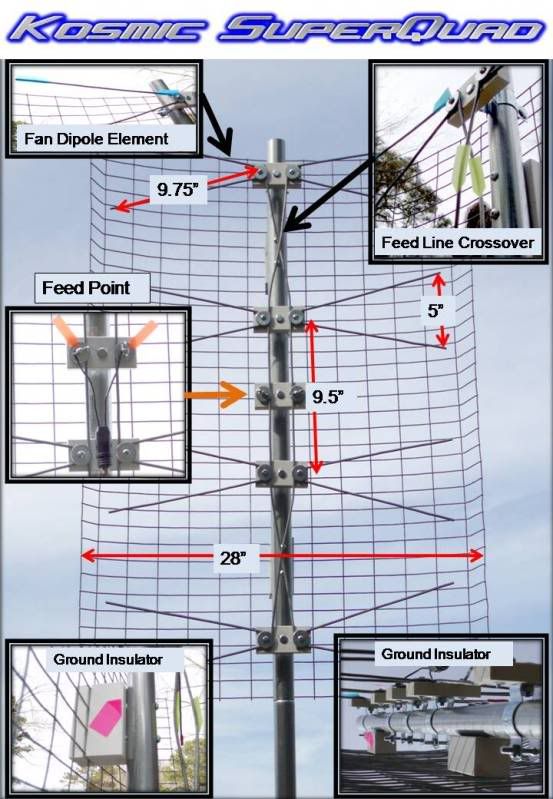 Introducing the Brand New
SuperQuad
from
Kosmic Antennas!
These antennas are identical. One is marketed towards the DIYer experimenter, and the other to the general market or those that have no interest in the tunability of this antenna...but are interested in its as delivered high gain, high performance, high quality.
Price: $59.95
Search eBay for Kosmic SuperQuad
Hope you like it. Please ask questions... Complete discription on the eBay link. Joining the forum is easy and only takes a minute.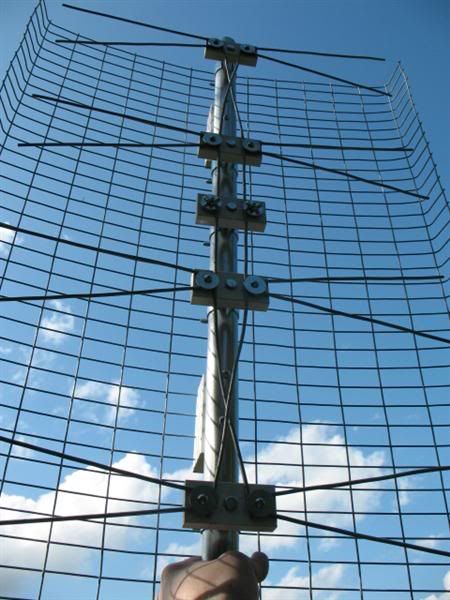 Here is a diagram naming the parts of the antenna...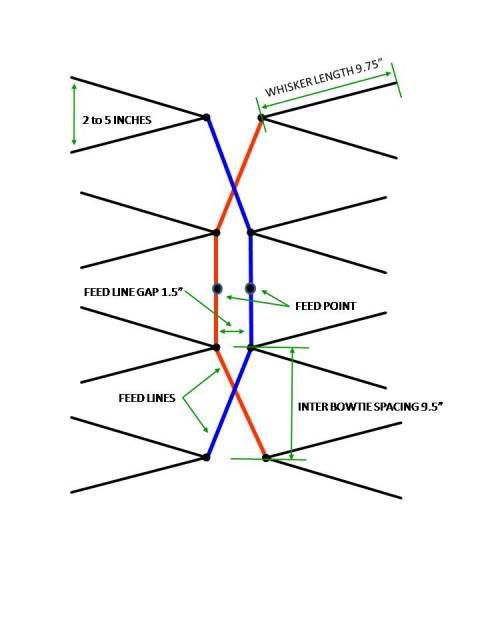 Here is the recommended balun attachment method for a permanent mast roof/tower mount....the coax should be electrical taped to the mast farther down....and
dont forget the weather boot
as well. This gives you a solid rigid connection which wont blow around in the wind. It is also beneficial to connect the balun leading away perpendicular to the feed lines of the antenna, to reduce interference between the 2. However a quick and dirty connection just hanging straight down works good for testing purposes.
EDIT:
We were discussing baluns the other day, and it came to my attention that the balun attachment method that I have recommended may not be optimum.
Here is the thread where baluns are discussed, and about page 2 we start discussing the Kosmic SuperQuad Tune-A-Tenna balun attachment method.
Preferred antenna balun?
Why is the Kosmic SuperQuad Tune-a-Tenna better than commercially available 8 bays?

Let us count the ways!

Seriously, lets talk about how this antenna is superior to the 8 bays and other differences. It seems too good to be true....but it is true!

The 8 bays all have shorter length whiskers or elements which are designed for gain over a larger UHF frequency spectrum, ch. 14-69. They still sell them this way because Mexico and Canada continue to have television broadcasts on channels 51-69, so they want to cover the North American market. The longer elements on the Kosmic SuperQuad Tune-A-Tenna maximize gain on the smaller ch. 14-51 television band used in the United States, post digital transition. This results in superior gain and SWR numbers on UHF ch. 14-51....as well as superior performance on the lower UHF channels, especially.

Also the longer elements are superior for VHF High performance. While the 8 bays have more elements they arent as good at those frequencies.

Furthermore the 8 bays with multi-piece screens are not as good on VHF High nor on Lower UHF. You want one solid reflector back there...so that it resonants nicely at those frequencies and reinforces the elements at those frequencies. It just so happens that these lengths are pretty good 3/2 wave resonant antennas at mid to lower UHF ch. 14-51, as well...so you miss that reinforcement and resulting gain increase with a partitioned antenna screen. The curved reflector also compresses the clover pattern of a 3/2 wave antenna at UHF frequencies and directs them back towards your antenna elements.

Next up! Uniform illumination of the elements. The 4 bowties of the Kosmic SuperQuad Tune-A-Tenna present a smaller antenna area than the 8 bays dual 4 bay configuration. This means that you are likely to get more uniform illumination of the elements...which is good for integrating each element into the same transmission wire. Integrating different current levels and voltages degrades possible potential performance of the antenna. This situation is less likely to occur in the 4 bay Kosmic SuperQuad Tune-A-Tenna.

Then there is the necessity of creating phased feedline integration between the 2 4 bays in an 8 bay. Many are poorly designed and defeat the potential gain increase of ganging 2 4 bays together.

The Kosmic SuperQuad Tune-A-Tenna also has a wider beamwidth than the 8 bays (which typically run about 25 to 30 degrees on UHF). The Tune-A-Tenna on UHF is about 55 degrees +/- 5 degrees depending on frequency. This can be extremely beneficial for those with television transmissions off axis by up to 75 degrees (but you could also favor the tighter beamwidth depending on your situation)....but in that case you may want to go for an xg91 or similar Corner Reflector Yagi.

The Kosmic SuperQuad Tune-A-Tenna also has a smaller profile for those Home Owner Association battles.

Hope you found the above informative.

EV
Some good analysis with successful users TVFool charts starting on page 9 of this thread...
Independent Testimonials
I bought two [Tune-A-Tennas] and love them. They are doing a fantastic job. In my opinion, they are the best on the market, so much so that I disconnected my satellite service permanently that I have had since 1996 with dish network. I could not ask for any better reception. I personally want one more, that way I can pick up Fort Wayne, South Bend, and Indianapolis. My dad was so impressed that he wants to buy two of them for his house. I thank you very much for the two that I already have.

Andrews, Indiana
I just received the "Tune-A-Tenna" yesterday so I have not yet had enough time to do a full evaluation. However, based upon my results so far, this antenna is very good. My receiving situation is that I have a very weak and distant (52 miles) UHF station on the high end of the scale (real channel 41) and I also have a low power VHF station (real channel 7) and a distant VHF station (real channel 9 which is 47 miles away). This antenna is able to pick up all of these stations with a solid lock and good signal strength. I am impressed and pleased with its performance.
...
Now that I've had the time to do a more comprehensive evaluation of the 4 Bay SuperQuad (aka "Tune-A-Tenna&#8221
, I've concluded that this is best 4 bay antenna for the US market. It's tuned for the current US television broadcast frequencies (7 thru 51) and it delivers. This is, after all, a UHF antenna and it pulls in all UHF stations from 14 through 51 perfectly. The real surprise with this antenna is that is does so well on VHF high band as well.
I'm using the stock reflector since I have as yet been unable to find a source for 1" x 2" galvanized fencing in my area. However, considering the great performance I've experienced with this antenna on VHF high, I really don't need to enlarge the reflector. More than anything, I was just curious to see how much better the VHF high band reception could be with a larger screen.
Also, I live along the gulf coast in an area subject to high winds and salty air. I have no doubt that this antenna will stand up to weather conditions in my area and provide many years of service. It's built like a tank.
I have an XG-91 that I use for UHF reception. In direct comparisons I've found that the SuperQuad 4 Bay equals the XG-91 on the high end of the UHF television spectrum and exceeds the XG-91 in receiving UHF signals on the low end of the spectrum (14-30).
I'm very pleased with this antenna and feel it was well worth the price.
Gulf Breeze, Florida
Last edited: