Administrator
Staff member
Please use this thread for discussion of battery operated and or mobile digital television sets.
I know of three.
Axion AXN-8701 7-Inch Widescreen Portable Handheld TV with Built-In Tuner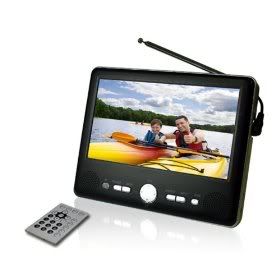 Details: 7-Inch widescreen LCD portable handheld TV
Built-in NTSC/ATSC tuner for both analog and digital channels - so it WILL work after Feb 19, 2009
A built-in rechargeable battery (Li-Polymer) is included.
Built-in antenna allows for easy repositioning for better reception
A/V input for external audio/video sources
Includes AC adaptor, instruction manual, remote control, external antenna, car adaptor and A/V cables
Haier HLT71 7-Inch Portable LCD TV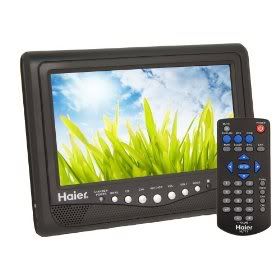 Details: 7-inch portable LCD TV with ATSC/NTSC tuner, that WILL work after 2/19/2009
Selectable screen aspect ratio of 16:9 or 4:3
Rechargeable Li-polymer battery offers up to 2.5-hours of life between charges
Audio/video jack and coaxial output; detachable antenna
Multi language OSD- English, French and Spanish with detachable antenna
AC adaptor, car adaptor and remote control
Coby TFTV1022 10.2-Inch LCD TV
Details: 10.2" widescreen TFT LCD digital color TV/monitor with ATSC Tuner, dual ATSC/NTSC tuner for digital and standard TV broadcast reception, accepts DTV signals up to 1080i, black
The Coby TGTV1022 does not have the option to be powered by battery.
AV input jacks for use with media players, DVR/VCRs, video games, and more
15-pin VGA interface for use with computer system, full-range stereo speakers(6W), digital comb filter and noise reduction
V-chip parental control, closed caption, and electronic program guide support
multi-language on-screen display, wall-mountable design