Super Moderator, Chief Content Editor
Staff member
I am sad to report the voice of Bart Simpson's Elementary School teacher Mrs Krabappel has passed.
Marcia Wallace, Mrs. K's voice was probably best known from the Bob Newhart Show as the Medical building Secretary (traffic cop) for Doctor Bob Hartley and other Doctors on the same floor. After Newhart's show ended, she provided the voice of the Simpsons cartoon character Edna Krabappel for almost two decades.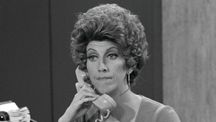 Marcia Wallace, Star of 'The Simpsons', Dead at 70 - Puget Sound Radio
From the article above:
..."Wallace was diagnosed with breast cancer in 1985 and became involved in charitable groups involved with treating the disease."
---
Marcia Wallace was a Breast Cancer survivor of 27 years and since BC runs in my family, I applaude her. The report above says she died from pneumonia, but I suspect lung damage from (now obsolete 1980s) radiation therapy may have contributed to it, which is exactly what happened to my Mother. R.I.P. Marcia.
Jim