Administrator
Staff member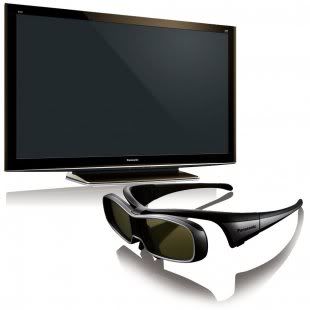 Panasonic - VIERA / 50" Class / 1080p / 600Hz / 3D Plasma HDTV
Model: TC-P50VT25 | SKU: 9825367
​
Positive:
Picture quality and black levels are class leading; 3D; THX Supported; LAN connection for VieraCast for Internet television and other apps; Comes with one pair of 3D glasses.
Negative:
Power Consumption; Costly compared to other models with comparative specs; Not much content for 3D viewing yet; Internet experience may prove to be less entertaining than competitors who utilize Google TV.
In Summary:
The picture quality (PQ) on this HDTV is outstanding when compared to competing models.
Review:
I recently had the pleasure of demoing and testing the TC-P50VT25 for an hour at a friend's house....thought I'd do a little review on it and post it to the blogs section here at DTVUSAForum.com.
Design
Design-wise, the TC-P50VT25 has a clean no-nonsense look to it. The silver lined trim that wraps around the outer edge of the TV might be the only complaint that I personally have, but I'm a bit more minimalist with television design than others tend to be. At only 3.6" thick, and 67.2 lbs, this 50" Plasma HDTV won't require much work to carry out of an electronics store, but will require an additional hand if you need to mount to a wall.
3D
I'm not sold on 3D technology yet. With that said, I really like the design on Panasonic's 3D glasses. They sort of have an ultra-cool Rayban style look. I watched 15 minutes of "Cloudy with a Chance of Meatballs" in 3D, and though there were some great 3D scenes that appeared to jump out at me, I just wasn't wow'd by the viewing experience. Also, I'm never a fan of sacrificing brilliant colors at the expense of having great 3D effects, and that's what the current 3D technology does in my opinion.
2D
I have never seen such amazing, vibrant colors, contrasted dark black-level detail. This is one of the best HDTV's you can buy this holiday season, and though you may not find too much in the way of discounts, the TC-P50VT25 will not disappoint if you choose to spend more on an HDTV set. My only concern is a recent review that
cnet
had followed up on with the TC-P50VT25 losing some black-level performance:
Editors' note, October 7, 2010: After about 1,500 hours the black-level performance of our TC-P50VT25 review sample has worsened, but not enough to affect our overall performance score. According to Panasonic it should not increase much further. Based on the strength of its performance against the competition, we have awarded the Panasonic TC-PVT25 series our Editors' Choice among plasma TVs for 2010.
Internet Television
I'm glad to see Panasonic jump on board with adding a LAN connection to the TC-P50VT25 and having access to internet content. Viewers have access to Netflix, Pandora, Skype, YouTube, Twitter, Picasa, Bloomberg, Weather but I'm afraid that other television sets that are being built (Sony) with Google TV interconnectivity will have a better online experience though with direct access to the internet and search engines, along with Dual View (being able to search while watching TV), and other additional features.
Specs
Warranty Terms - Parts1 year limited
Warranty Terms - Labor1 year limited
Product Width48-1/4"
Product Weight67.2 lbs. with stand (60.6 lbs. without)
TV TypePlasma Flat-Panel
Screen Size Class50"
Screen Size (Measured Diagonally)49-9/10"
Aspect Ratio16:9
Maximum Resolution1920 x 1080
Vertical Resolution1080p
Screen Refresh Rate600Hz
Internet ConnectableYes
PC Inputs1
USB PortYes
Media Card SlotYes
HDMI Inputs4
DVI Inputs0
S-Video Inputs0
Component Video Inputs2
Composite Inputs2
Audio Outputs1
Speaker Output Power30W
Speakers3
ENERGY STAR QualifiedYes
Language OptionsEnglish, French, Spanish
V-ChipYes
Sleep TimerYes
Power Consumption (watts) Power On139
Power Consumption (watts) Stand-by0.2
Simulated SurroundYes
Instant ContentNetflix, Pandora, Skype, YouTube, Twitter, Picasa, Bloomberg, Weather
USB InputYes
Ethernet PortYes
iPod DockNo
Product Height (with stand)31-9/10"
Product Depth (with stand)13-1/4"
Product Depth (without stand)3-5/8"
Product Height (without stand)30-1/2"
3D TechnologyFull 3D
3D-ReadyYes